Don't Care About Fulham? You're Not Alone.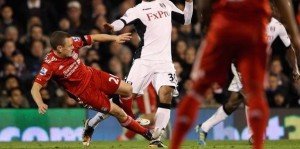 The title might sound harsh, but at this late hour I'm finding it hard to care about that as well. Fulham have been out of every competition they had the right to enter for too long to remember. Liverpool have nothing left to play for in the league and most of their players that will feature in the starting eleven come Saturday won't be making an appearance when Fulham roll into Anfield on Tuesday night. Three points, one point, even a loss; it hardly matters right now. We have our eyes on a prize and this little kick-about with Martin Jol and the boys will be nothing more than a distraction.
Building form and confidence ahead of a trip to Wembley is always important, but bear with me while I take a moment to devalue that notion. A 3-0 rollicking at Carrow Road was more than enough to set the hearts of millions of Liverpool fans a flutter. The players you expect to be on the pitch come kick-off on Saturday were on the pitch for kick-off last Saturday. Risking them for any less than brief cameo appearances in a meaningless match against the London team that no one is interested in makes about as much sense as the FA making the England squad fly halfway across Europe in the middle of a packed Premier League fixture list. That is to say, it ain't happening kiddo.
Sure, a little vengeance for the 1-0 reversal at Craven Cottage in December would be fine by me. Making those mouthy Cottagers who rained down bile on Luis Suarez to the point of indecency would give me a warm, tingly feeling inside. The slight mental boost it might give us to lay that ghost to rest wouldn't be too bad at all. Boosting our league position is always a sound bit of business as well; especially after Everton beat the stuffing out of the Lilly Whites on the weekend by a 4-0 scoreline. Still, it hardly matters.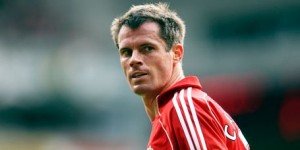 If Sebastián Coates partners Jamie Carragher in the heart of defense, I'll smile a little. Not only because the Uruguayan deserves a spot in the side, but because that almost certainly means that our Number 23 won't be inthe starting eleven this weekend. It sounds harsh to say and I regret publishing this already, but Carragher continues to be a liability at the back and keeping him as far away from the Wembley pitch would help me sleep a little sounder on a week that will be filled with nerves.
Suggestions that the former England International has no role left to play at Anfield are rubbish to say the least. The experience earned over his years in the trenches will be invaluable to players such as Coates who will be looking to make his mark in the Premier League over the coming years and pairing the two of them can teach the Uruguayan faster than one would expect. Like, you know, when the youngster has to chase down the players that lose Carragher at will or score phenomenal overhead scissor kicks out of absolute thin air. Anyways…
Ok, so maybe I have a slight interest in Fulham. I can't help it. Seeing how this one plays out will pale in comparison to the events just waiting to unfold on Saturday, but it can't all be glitz and glamour, right? You have to labour through the matches with Norwich and Fulham before you can enjoy laying Chelsea to rest. Let's consider this one an appetizer before the main course…
-steven.
Bitter Fulham fan who happened to read this? Sorry about your luck. Might want to try a Fulham blog if you want to hear about how you're a likable band of underdogs.