Depending On Who You Believe: Insert Fax Machine Noises Here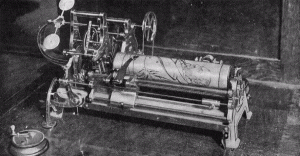 Now that we're all wrapped up in Poland and the Ukraine, we can get down to the serious business of waiting around for things to happen. The News Desk fired up the old, and by old we mean ancient, fax machine this morning and to be fair, there ain't much new coming through on that old wire besides Martin Skrtel rubbishing the rumors that he's on his way out the door. After some petty rumbling by the press, the big Slovakian, who has two years left on his current contract and just recently married his long time girlfriend, even went so far as to say that he can't wait for next season to start. With our results being less than stellar during our last go around, he may want to take that one back and enjoy his holidays like one Mr. Gylfi Sigurdsson.
The Icelandic midfielder still hasn't made a decision on his future with both Tottenham and Liverpool having bids in the region of £8mil accepted by Hoffenheim to secure his services. Spurs are apparently still the front runners for his signature and with former Chelsea boss Andreas Villas Boas looking likely to settle into the White Hart Lane hot seat by the end of the week, there's always the possibility things could go terribly wrong 'round North London in the interim. Gylfi's time with Swansea last season made him a hot property around the Premier League and although it's still destination unknown for the 22 year old, completely ruling out a reunion with new Anfield boss Brendan Rodgers could be foolish at best.
Now, moving on from hot properties to fix-er-uppers, supposed Red's target Salomon Kalou is reportedly ready to make a decision on his future with a handful of clubs vying for his signature. The Ivorian winger was signed by Chelsea in 2006 for a fee somewhere in the region of £9mil but didn't always live up to expectations down Stamford Bridge way. Without the mustard to cut, he's now floating around free agent purgatory and adjusting to the single life after 6 swingin' years in London. Salomon wracked up 6 goals and 1 assist in 24 appearances for the Blues last season and if the Gaffer is actually in the market for a left winger, it wouldn't take a highly trained detective to deduce that a certain Stewart needs to watch his place in the starting eleven.
With Kalou ending up on the Chelsea chopping block, there may be a war brewing over surprise Wigan star Victor Moses as the Blues look to re-enforce and Liverpool continue the search for someone that can put the ball in the net. Roberto Di Matteo has apparently already had a substantial opening bid turned down for the Nigerian winger with Wigan keen to hang onto their star man. Moses got to wheel away in celebration only 6 times last year, but the performances he put in, not to mention the quality of goals he scored for a team that just narrowly avoided relegation, has given some of the Premier League heavyweights food for thought. Though it's only hearsay and conjecture at this point, Brendan Rodgers is supposedly keeping close tabs on the winger, though he won't be making any official until the boss of all bosses, Dave Whelan, gives his OK to do so.
Before we wrap things up around here, let's say that despite rumors to the contrary, no one cares about Joe Cole.
Like us on Facebook or give us a follow on Twitter. Or, don't. It's not like we're desperate for attention or anything.