Fabio Borini to be Rodgers First Signing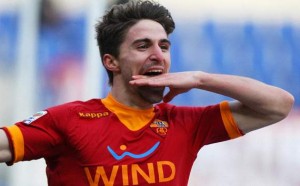 The News Desk is still trying to sort out all the feints within feints within feints, but it's looking more and more like Fabio Borini will be Brendan Rodgers first signing as Liverpool manager. The Italian striker, who just had his confusing joint ownership between Parma and Roma sorted out, appears to be on his way to Merseyside for somewhere in the region of £8mil. Loose lips sink ships is once again the motto around Anfield as new boy Rodgers keeps his cards close to his chest and the Borini transfer, which is coming as a quite a bit of a surprise, is no exception. There were some whispers late last month of interest in the 21 year old former Chelsea academy player and Italian International, but it appeared the transfer was dead in the water after Roma bought out the remainder of Fabio's joint-ownership contract in a blind auction. Earlier today, the gaffer confirmed there would be an "exciting signing" coming this week but it all sounded a bit like smoke for the bum; apparently, that wasn't the case. Though the transfer has yet to be confirmed, it's expected the deal will be done by the end of the week. More on this as it develops; or goes terribly, terribly wrong.
Give us a follow on Twitter or a like on Facebook for more antiquated idioms and out-of-date cliches.