Andy Carroll Loan Move a Possibility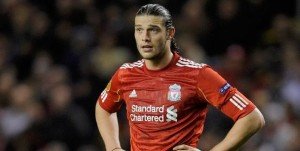 During our years covering the football, the News Desk has learned that the unexpected should be expected and the expected is certainly unexpected when it's not expected to be unexpected; or something. Andy Carroll could leave on loan? Yes, that was the word this morning from Brendan Rodgers when unlike most managers, he said exactly what was on his mind. There's been endless debate about where the big Geordie, who's having a bit of a torrid time living up to that dastardly £35mil price tag, will fit into Rodgers preferred 4-3-3 formation. Now, the News Desk isn't a tactician by any means, but the obvious answer is: nowhere. With a move for AS Roma youngster Fabio Borini almost in the can, Craig Bellamy sticking around and a new deal for Suarez in the works, it looks like big Andy may be hittin' the road. Rumors that AC Milan were sniffing around still seem suspect, but now that Andy has a big "take me away" sign hung around his neck, there will be quite a few clubs queuing up for his services. Gigantic mistake or best thing for everyone?
Click on a banner ad and keep this booze soaked blog going.