Interview with Kenny McCallum of Warrior Sports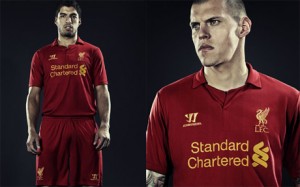 It's safe to say that you now know who Warrior Sports is. You've seen the new kits, you've had something to say about it and a lot of you have gone out and purchased at least one of them. Some of you mad folk have bought all three and alternate them in and out of your wardrobe throughout the week. That's cool, we can respect that. Still, what do you actually know about the brand? The product? The people behind it? We didn't know too much until we had a chat with Kenny McCallum, Head of Product Marketing at Warrior Sports, who gave us some insight into the brand, the new shirts and the design process.
As you may or may not know, Warrior Sports is based out of Warren, Michigan in the United States. Football – or soccer as we insist on calling it – has been the fastest growing sport in North America for years, but it still hasn't reached the astronomic heights of the more easily recognizable past-times of Baseball and Basketball.
How does a Michigan based company get into making football shirts for one of the world's most well known teams?

The brand was started by the now President Dave Morrow. Dave was one of the best Lacrosse players in the world, but as a player he was unhappy with the product being offered to players in the game as he kept breaking sticks. Dave decided that there must be a way to improve the product to assist and enhance the athlete's performance. He took time to develop titanium shafts and introduced new product to the game – the brand started from there in 1992.

In 2010 we were looking at how to expand the business from manufacturing product to direct involvement with teams. It didn't take us long to come round to the understanding that football is the biggest global sport in a team environment and Liverpool Football Club is one of the most well recognized and decorated clubs in the sport. It was quite a simple equation to say, "right, that's the market we go into."
We've been talking about Warrior around here ever since the deal was announced last year. There's been a lot of curiosity about how things would turn out. Obviously people took some time to look into the brand and some of the previous kit designs that were produced. Let's just say we saw some pretty innovative, but "out there" stuff.
Tell us a bit about how the processes in kit design Warrior went through to arrive at the finished product?

When creating the kit we underwent a number of processes, from creative direction and design through to development and production. The process started at the brief given by the club and helping identify a creative direction and theme; for the 12/13 product this was 'modern tradition'.

The designers considered various elements in order to reach the final product. Firstly, who is the kit for and how does it have to perform? Technical requirements like player mobility during a game, breathability, how the shirt is put together, engineered and the fit. This is then followed by merging aspects of the club's indelible tradition and looking at influences from the club's history.

A variety of designs are then presented and through a process of selection in conjunction with the club a final design is agreed. During the sample stage we also have to seek consultation with governing bodies and leagues such as UEFA, The FA and The Premier League to ensure the kits comply with regulations.
Liverpool fans certainly know their history. There's been talk about redesigning the crest for a few years now with a lot of fans hoping for a more stripped down, classic look. The retro / throwback designs have been real popular with North American sports, but you don't see much of that in Football.
With the crest, was the design team trying to tap into the nostalgia of past Liverpool teams?

The two main themes for the kit, and the crest, are 'modern' and 'tradition'. It's a marriage of modernity – as far as performance is concerned – and paying homage to the indelible tradition around Liverpool Football Club.

Liverpool's crest has changed approximately eight times since the fifties and as we looked at it there was one crest that stood out, the Liverbird in amber yellow.

It was only ever used once, between 1976 and 1985 and over that period of time the club won seven of their 18 league titles, four out of their five European Cups and a European Super Cup. As a result the crest is instantly synonymous with winning and is recognized by the fans as representing a period of success, we felt it was a great way to make impact particularly in a new relationship.
One thing that's for sure is that kits aren't made like they used to be. Every manufacturer has different ideas that set their design, their kit, their company apart from the competition.
What kind of cutting-edge technology is Warrior using in the kit that's going to push the envelope even further?

I think we've managed to build in some great technology and features into the kit. Warrior War-Tech technology is featured within the jersey. This technology is focused on improved wicking of moisture from the body. It's designed to keep the elements out while letting sweat and moisture escape from your body keeping you dry and comfortable. Also, the use of select fabrics to aid movement and four way stretch mesh under arm panels ensure ventilation, comfort and ease of movement.

There's also a high-water resistance aspect applied to the main body fabric of the new shirt. So, from an external point of view, any water has a natural run-off that's not absorbed into the garment, this is really important for performance.
I do a little running so I can see how not having your shirt drenched in sweat could help! We've heard a little bit about player sponsorships, like Craig Bellamy and some new products in the works.
Are there any new sports Warrior will be developing a kit for on the horizon?

At the moment football is our priority. We've got some really exciting plans in the pipeline with player endorsements having already recruited Craig Bellamy as well as further product development.
Kenny McCallum is the Head of Product Marketing at Warrior Sports, kit suppliers to Liverpool FC. For more information visit www.warriorfootball.com