After Belarus, the word of the day is Context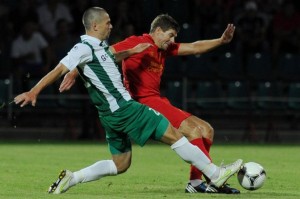 Yes, context is the most important thing to keep in mind after watching Liverpool come away with a 1-0 victory over Belarus side FC Gomel. Liverpool just completed a North American tour that saw them logging more frequent flyer miles than I'll ever come close to redeeming. Not to mention a new manager, new system, and well–yeah, you get the picture. Robbie Fowler took to Twitter during the match and noted that in the heat the players were subjected to in America, they could not get in any serious playing time. The core group was also missing during the North American tour. Steven Gerrard, Stewart Downing, Jordan Henderson, Glen Johnson, and newcomer Fabio Borini all had little time in training, but were deemed important enough to make the starting XI against Gomel.
The other side of the pitch was home to a team with a stark contrast to Liverpool. FC Gomel is in form, sitting in third on the table of the Belarus Premier League. They are also in the middle of their season. Fitness for them, is certainly not a problem and they showed it with quality runs and a persistent attack. Liverpool, on the other hand, looked tired. All players were off pace and seemed to be lacking the sharpness to keep the passing flowing, taking too many touches before making a decision. Hopefully, fitness will increase in the coming weeks when the team can stay out of the airport for a while. Maintaining fitness is an absolute must to play in the type of system Rodgers is trying to institute.
The first half looked like a continuation of last season. The play was very disjointed. Possession was given away cheaply. Long balls were played often enough for me to make sure Roy Hodgson didn't slip in as manager during the night. At 23′ Joe Cole, who had been playing forward on the left side came off with a hamstring injury. Youngster Raheem Sterling took his place, switching to the right and putting Stewart Downing on the left. This did absolutely nothing to contribute to the attack. For much of the match, Sterling struggled and was isolated when he did find space. Jay Spearing also had a very difficult time. He repeatedly lost his man and made far too many errors in passing. Even Gerrard quickly reverted back to being Roy of the Rovers. He is an excellent player but has to be constantly coached. It seems that every manager struggles to get him to trust the rest of the team to play the role they are assigned. In trying to support everyone else, he completely nullifies his own position in supporting the attack.
FC Gomel was threatening throughout the first half. Martin Skrtel had a hell of a time with Gomel's #9, Alumona. It is incredibly unlucky that he did not score during the match, but as a person supporting the other side, I won't complain.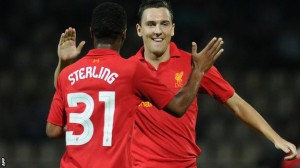 The second half was much better. The long balls seemed to stop or at least make a bit more sense when they were played. The tempo slowed when Liverpool had possession, giving the players an opportunity to plan and rest. Martin Kelly was subbed on at halftime for Glen Johnson, a switch that seemed to be more about giving both players a chance to increase their fitness than one that had to do with tactics or injury. Lucas also came on at 65′ for Henderson which was a bit of a surprise. It seemed that Rodgers decided to go with two defensive midfielders, pushing Gerrard forward. It ended up working fairly well and slowed the FC Gomel attack.
A common theme from last season that has carried over up to this point is how Liverpool plays in the final 1/3. Borini made good runs, but was without support. Liverpool really have a problem getting numbers forward when any of the forwards have possession inside 30 yards. That could be the reason that Stewart Downing said hell with it and had a crack from about 35 yards out in the 69th minute. He launched a low rocket from his left foot that narrowly beat the keeper and ended up in the back of the net. At the half, he switched back to the right side where he is clearly more comfortable playing. He would never have been able to have a go if he had been on the left side. Playing him on the left does not make much sense anyways when there is no one to put a cross towards.
The match would end 1-0 with Liverpool gaining an important away goal. We can be happy that the Reds did not concede, but obviously there is still a lot of work to do for the new manager and players who have not had enough time in training. A few noticeable absences from the squad today are Andy Carroll and Daniel Agger. Carroll supposedly was left out because of an injury, but let's  be honest, we've all been reading the transfer drama and have a fairly good idea of what's really going on. The exclusion of Agger is more of a worry. The Dane has been the subject of speculation over a move to Manchester City who are looking to bolster their defence. His agent reportedly told Politikin Agger is not injured in any way and is not sharing as to why he did not make the trip to Belarus. Rodgers stated after the match that Agger did not make the trip because of fitness and is trying to prevent another injury-riddled season. Makes sense. I guess.
The Reds now have a week to prepare for the return leg when FC Gomel come to Anfield. In this time, I hope to see a lot of questions answered about the future of players and maybe as to why Jonjo Shelvey was not used against Gomel, though Cole's injury might have had something to do with it. Reina returned to Melwood on Monday so there is a good chance we will see the Spaniard between the posts next Thursday.
Lastly, congratulations to Jamie Carragher on his 700th appearance in a red shirt. There is only one Jamie Carragher. The man is pure class.
-CSD