Liverpool Ready to Kick Off Europa League Campaign in Belarus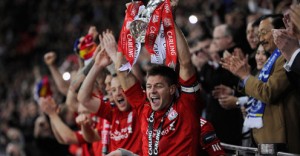 I guess you can say I started writing this post at the end of February. Six trophy-less seasons come to an end with a Carling Cup victory under the bright lights of Wembley, and with that, qualification for the Europa League. Yes, Champions League Junior. If it wasn't for the Intertoto Cup, you could actually call it the worst competition in Europe. Did I wake up on the wrong side of the bed again? That would be a possibility had I gone to sleep to at all; but I'm not here to talk about my whether or not I got a solid 8 hours. I've got something to admit and it won't be easy, so let's just get this out of the way right now: I'm excited for this match.
No, I've never heard of FC Gomel. This is hardly the glamour tie that keeps you awake for weeks. To be honest, I'd be hard pressed to point out Belarus on a map, even if it was labeled and circled in red with a huge arrow pointing at it. Maybe, I need glasses; but I digress. A return to Europe, even in a second tier competition that hardly anyone remembers is even going on, yet alone watches, is one massive check mark in the awesome column. Do you know why? No? Well, friend, let me take a few moments of your time to tell you why.
It's on the continent that Liverpool is king. Eighteen domestic titles is something to behold. Seven FA Cups is nothing to sneeze at. Eight League Cups? An impressive tally indeed; but it's what you win outside of England that people will never forget. Five time champions of Europe. Three UEFA Cups and three European Super Cups. AC Milan, Borussia Mönchengladbach, Real Madrid, AS Roma, Club Brugge, Deportivo Alavés; these are the memories that are still spoken of to this day and this season, we have a chance to do it all again.
I know it's early door optimism. Pre-season hasn't exactly been a barnstormer and even though there's been enough football to go around with the European Championships and the Olympics going on, it just isn't the same as Liverpool in Europe. Nothing quite compares. By the time October rolls around, we'll be cursing this competition for anything and everything it's worth, but in August, it means something to someone: and that person is me.
It might be important to me, but is it to the Gaffer? Will new boy Brendan Rodgers send out the kids? Raheem Sterling has his bags packed, but Suso and Dani Pachecho won't be making the trip. Did  Sterling do enough on the North American tour to warrant a place? If  he does, is it because Rodgers devalues this competition or doesn't want to risk first team players? Most of the big names aren't quite match fit yet, and working them too hard early in the season could be a serious problem.
Sterling isn't the only surprise name on the list with Andy Carroll getting his name on the team sheet as well. Alberto Aquilani won't be making the trip after the Italian midfielder was left behind to hammer out terms with Fiorentina. What about Steven Gerrard? Or Daniel Agger and Martin Skrtel? A little experience can go a long way in Europe. Will we get our first glimpse of Fabio Borini in that famous red shirt? Who's going to start between the sticks? Do you think Pepe enjoyed his holiday? Can it be Thursday right now? If we're missing key players like Suarez and Bellamy, will the formation Rodgers employs be tailored to thwart the opposition, or to highlight the strengths of those at his disposal?
I'm getting excited already. Remind me of this when I'm pissing and moaning about the Europa League in a month or two.
–steven.
Want to win a pair of Nike GS football boots from our buddies at Soccerpro.com? Look no further than right here. Remember where you heard it.