Suarez Signs ahead of Europa League clash with FC Gomel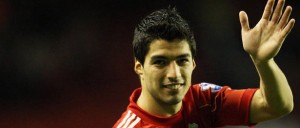 After some very odd "technical problems" early yesterday, Liverpool have confirmed that Luis Suarez has signed a new long term contract that will keep him on Merseyside until the end of time as we know it. Well, maybe not quite that long, but either way it's a serious boost to a club that's going into the second leg of a Europa League qualifier with FC Gomel on Thursday evening. New boss Brendan Rodgers can now face the Kop for his first competitive match at Anfield knowing that he's tied up one of the biggest loose ends of the summer. It's not known at this time whether Suarez will play any role in the match with the Belorussian club after just returning to Melwood after representing Uruguay at the Olympics, but sorting his future out will be a weight off the clubs shoulder. The last thing we need at this stage of the summer is more heavy lifting.
The Reds go into Rodgers second competitive match in charge with a 1-0 advantage courtesy of a long range Stewart Downing strike. While it's not all that surprising that we're carrying the lead against a team from Belarus, you may want to re-read who scored. Yes, it was Downing who, once shifted to the right flank, put in a decent performance and gave us the go-ahead. It wasn't the returning Steven Gerrard, the impressive Fabio Borini or young Raheen Sterling that saved Rodgers the blushes. It was no league goals, no league assists Stewart Downing that was the difference.
Reading too far into that would be disastrous and trying to draw some sort of parallel to Downing finding the back of the net and Rodgers taking charge would be a fools errand. It's still about as early as early doors get and for long, painful swathes of the last match there wasn't a modicum of improvement to be seen; that is, until a change in tactics closed up the shop. Lucas on for Henderson, Gerrard pushed forward, and then, all of a sudden, there's the shift in play that everyone has been waiting far too long for.
FC Gomel was doing a mighty fine job of making us look like the minnows, with Alumona looking particularly dangerous, until we grabbed the match by the throat. Before that it was a boat full of missed chances, including an unfortunate ping off the woodwork for the home side, until two holding midfielders, Sterling and Downing cutting in, and the Captain making the kind of runs he was born to make turned the tide. Call it Plan B or call it a lucky guess; call it whatever you want, but it I call it "working". When we came up against a locked door last season, we just hammered at it. There was no attempt to pick the lock or sneak in the window 'round back; we just kept hammering it. Apparently, that's no longer the case.
While we may not see Suarez and Borini sharing the stage for the first time or catch a glimpse of Daniel Agger building play from the back, we'll hopefully get to see something that's been missing from Anfield for a little while now: tactical, possession based football. Last match had it's hooves, misplaced passes and cringe worthy moments, but that all gets sorted in time. While I won't write off FC Gomel quite yet, minor adjustments can have major impacts. Hopefully one of those impacts will be the ball hitting the back of the opponents net. Just sayin'…
–steven.
Want to win a pair of Nike GS football boots from our buddies at Soccerpro.com? Look no further than right here. Remember where you heard it.