Liverpool (0) Arsenal (2): Falling into Fall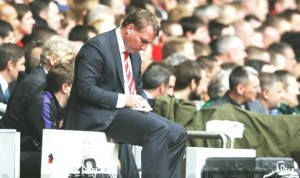 I've looked outside and it's official: the sun is still shining. Fall is just around the corner and a 2-0 reversal at the hands of Arsenal left the Reds with only one point from three matches. Two defensive mistakes from Liverpool, two goals for the Gunners; there's something going wrong here. Lukas Podolski opened the scoring after his hard work in his own half reaps rewards on the counter attack and another Pepe Reina blunder gives Santi Cazorla his first goal for the North London side and assures the trip back to the Capital will be a happy one. With an International Break on the horizon, Rodgers will have time to try and work this one out, but it shouldn't take him all that long. We need to score, don't we?
It's not even that we played that bad or they played that well. The possession, the passing, the vision and the runs have all been clicking much faster than expected. Rodgers footballing philosophy is beginning to take root on Merseyside, but, despite the new faces in the boot room, our lack of sharpness in the final third continues to punish us. Completing passes and controlling the match — neither of which we did today — is all good and well, but if you can't convert you can't win.
Steven Gerrard, Fabio Borini and even Luis Suarez all looked off color. The Captain, usually a beacon of perfection, has had a poor start to the season with his touch in particular failing him repeatedly. Sloppy, directionless passes à la his sojourn at West Brom were on display and it would be a give away from him that would lead to the visitors go ahead goal. Podolski was tackling back and picked off Gerrard as he looked to find Luis Suarez. With the ball at the feet of Santi Cazorla and Liverpool caught flat footed, the German would sprint a good 60 – 70 yards to receive the through ball and slot home coolly.
Neither manager will be happy with their teams passing game today. Misplaced, careless, lackadaisical; for two managers that pride themselves on this aspect of their game, there will be words in training over the weeks to come. Nuri Sahin made his league debut beside Joe Allen in the heart of Liverpool's midfield and both turned in performances worthy of mention with hardly a misplaced pass between the two. The rest of side? Certainly not as clinical.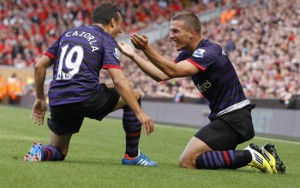 With the Reds falling behind, you can queue up another round of opportunities for the home side before and after the break, followed by a period of near dominance; right before the expected capitulation. With Podolski breaking his duck, and scoring Gunners first goal the season, it would be time for Cazorla to follow suit.
There's been whispers about the decline of Pepe Reina for some time now and with his mid-week blunder against Hearts, you wouldn't be wrong to brush it off to a long summer hangover. Goalkeepers have their quirky problems, but when the Arsenal new boy whipped in a low shot with a sprinkle of pepper on it, you'd bet the farm on Reina getting down to stop it; and he did, but the ball would ricochet off his arm and up into the net. Problems at the front, problems at the back.
Uh-oh? That's one way to put it.
We saw Downing come on for the still struggling Borini early in the half and Jonjo Shelvey make an immediate impact when subbed on for Sahin, but there was nothing else coming from the bench. No one to change the game or add even a hint of a new element. Like for like, fresh legs at best. When Joe Allen starts hoofing the ball into the box and hoping for the best, you know the match is well and truly over. Short in depth, short on quality, and now short on points.
Maxi, Kuyt, Carroll and Bellamy out; four attacking players gone and only two — Fabio Borini and the yet to be seen Oussama Assaidi — to replace them. There's something going on here. Watching the Reds drag themselves out of the relegation zone has become a recurring Fall theme, though not one that anyone enjoys. Our next match is Sunderland away in two weeks time — will the sun still be shining by then? Looking out the window, it seems to be going down pretty fast.
-steven.
Give us a Like on Facebook and a follow on Twitter. If you're into the tunes, check out our collaborative playlist on Spotify.