Sunderland (1) Liverpool (1): The Middle Ground is Bogged Down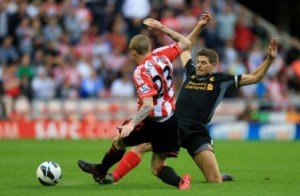 After such an emotional week, a 1-1 draw with Sunderland at the Stadium of Light hardly matters. Luis Suarez combined well with youngster Raheem Sterling to pull the Reds level after a Steven Fletcher tap-in half an hour into the match put the Black Cats in front, though it has to be said that Liverpool should have been leading comfortably by that point. Week in and week out there's only so many ways to say that we were the better team and deserved much more than what we came away with. This is the first time since 1911 that Liverpool have failed to win at least one of their first four matches and with a meeting with Manchester United looming on the horizon, it goes without saying that we're in dire need of a shift in momentum.
That's not entirely true though, is it? With the exception of spells against Arsenal and the second half melt down against West Brom on opening day, we've looked comfortable on the ball and have continued to create decent opportunities; we just can't put them away. 52% possession is a pretty decent return for an away match and the desire to score is there. It's just not panning out and that, in itself, is a massive problem.
By the time Steven Fletcher caught Martin Skrtel napping and put the Black Cats in front, Fabio Borini could have had two goals. Maybe the cosmic shifts wouldn't have allowed the second opportunity to happen had the Italian striker lifted the ball over Simon Mignolet rather than blast directly at him after latching onto Carlos Cuellar's criminally poor header back to the Sunderland 'keeper, but with the ball not finding the back of the net, he was allowed a second bite at the cherry, though his first time shot from the top of the box was well saved by the Belgian stopper.
Shelvey and Suarez would shoot wide, Danny Rose would keep an overly excited Raheem Sterling in his pocket for most of the half and Sessegnon would be the only consistent bright spot for Sunderland as Brendan Rodger's tactics worked a treat. The home side were having a hard time getting forward, and each time they were lucky enough to find themselves outside their own half, we were quick to close them down.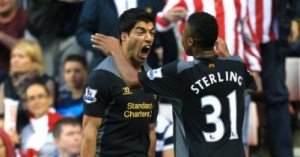 Controlling the match, holding possession and creating chances is all well and good, but it would take Liverpool 41 minutes to find a response to Fletcher's first half strike despite a number of earlier opportunities to do so.
It's been four matches played with 3 goals scored and 8 conceded; our woeful form in front of the net just keeps on keepin' on as both Gerrard and Johnson hit the woodwork with Mignolet well beaten. Sunderland scored with their first shot of the match and it would take Liverpool 19 before they found the back of the net; even that had a bit of luck about it. Raheem Sterling was having a bit of a difficult time, but when he found himself in beyond Danny Rose, he struck one of those crosses you don't expect a 17 year old to whip in: perfect. Suarez was booked earlier in the match for a dive, which did nothing to endear him further to the Sunderland faithful, but when Titus Bramble could only block the Uruguayans initial shot back into his path, the 'Pool were level at last.
That would be our first league goal from open play this season and with Martin O'Neil watching three points flutter away, you wouldn't have been too far off the mark thinking that they'd come to rest at the visitors feet. Waves and waves of attacks flooded into the Sunderland half as Brendan Rodgers began to see the positives pile up. Joe Allen was again a force to be reckoned with, the Captain is beginning to find his feet in a new system, Jonjo Shelvey looked comfortable pushed forward, Daniel Agger hardly put a foot wrong and Suarez, despite his frustrating spells, did right by us once again. A share of the spoils defies logic, but there's hardly been anything logical about Liverpool's results in recent memory.
We're still looking for our first win of a season that's still wet behind the ears; still there's a sense that we're not far off. There's no way we'll see a finished product anytime soon, but we're building slowly towards it. Yesterday we we're caught once again between between rising up and falling down. Being good enough to mention, but bad enough not to praise too loudly. Bogged down like the middle child in no mans land; a trip to Bern, Switzerland for a Europa League meeting with Young Boys on Thursday separates a meeting with Manchester United next weekend. Needless to say, we'll be looking for a bit more when they come knocking on our door.
-steven.
Looks like Betegy got this one right. Don't know what Betegy is? Check them out, make some money, and look for a site review coming soon.