Sterling vs. Sunderland: Video and Stats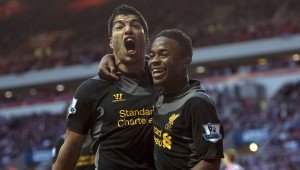 It's not that often that 17 year olds turn in Man of the Match performances. Sure, maybe every so often football fans get their blinders on when one of the kids turn in a decent shift and overlook the obvious problems to dole out the plaudits. That hasn't necessarily happened with Raheem Sterling. A handful of substitute appearances under the King last season gave us a glimpse of what the boy is capable of, time on the pitch during pre-season got us excited to see him have a go in the league and now, with Brendan Rodgers at the helm, the English-Jamaican winger is holding down his spot in the starting 11; and yesterday against Sunderland, he solidified his claim to a place on the teamsheet.
Video courtesy of @MostarLFC and stats courtesy of @EPLIndex

Yesteday, Raheem even beat out Joe Allen to record to best pass accuracy of a Liverpool player by completing 33 out of his 35 passes. More than 3/4 of those passes came in the attacking half and he completed 87% of them to make him one of the Reds most dangerous players on the pitch. His willingness to run at Sunderland fullback Danny Rose lead to Liverpool's only offside call of the game and helped create 4 clear cut chances for his team mates.

One of the best parts of the youngsters game is his work rate and willingness to track back. Each of the 5 tackles he attempted was won and 17 out his 26 ground duels went his way. Defending isn't what he's paid to due though and although the two shots he took didn't amount to much, with 1 flying off target and 1 blocked on it's way to the net, he was successful in 5 of his 10 dribbles which is a pretty decent showing for a youngster still finding his feet. His willingness to work and try to get in behind the back line eventually lead to a goal when one of those dribbles ended in his only completed cross of the match. He might need to work on that 25% completion rate if he's going to be a winger for the national team, but that one cross did find Suarez who pulled the Reds level.

He still needs some work, but it's hard to complain too much — or at all — when you realize what he's accomplished in such a short time.
Concerns have been raised about Raheem growing up too quickly. The pressure of playing first team football and the money it entails have both been often cited points why promising youngsters don't fulfill their potential. There's also the argument that if results don't improve on field, there could be a exodus of promising players looking for greener — and more trophy filled — pastures.
For now anyways, that's neither here nor there. We've got the future to look forward to and for the foreseeable one, more Raheem Sterling to make our days that much brighter.
-steven.
Check out EPLIndex.com for all your statistical needs and give our boy @MostarLFC a shout in the Twitterverse.