Bring Me Back a Toblerone: Young Boys Preview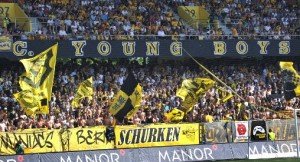 I'm sure I wasn't the only one to notice the irony of Liverpool boss Brendan Rodgers fielding a side filled with kids against a team called Young Boys and I'm also quite sure that a joke about them going down will pop up before this post is over. With Manchester United making what's sure to be a very eventful trip to Anfield this weekend, the Gaffer has opted to leave a number of first team players — namely Pepe Reina, Luis Suarez, Steven Gerrard and Joe Allen — on Merseyside for some rest. A midweek trip to Switzerland for a Europa League fixture isn't all that welcome when you're still looking for your first domestic win of the season and are in serious danger of being smashed by your biggest rivals; though, in reality, we might not have to wait for the weekend to get smacked around the pitch.
Does that sound negative? Maybe it's just nerves coming through, but Young Boys boss Martin Rueda believes that Rodgers has gravely underestimated his side. Two years ago the Swiss side shocked Tottenham in the Champions League by scoring 3 goals within a half hour. Although they ended up losing out in the end, they made their point known: Young Boys don't go down without a fight.
Now that I've got that out of the way, I can go through the motions of saying that I know nothing about Young Boys and have never seen them before in my life. Not only is that a solid line to repeat to the police should they ever confiscate your laptop, it's also the truth: I've never seen this team in action. What I do know for certain — and you know this as well — is that an away goal would be a boon to our cause. Finding that goal though is going to be tricky.
A late intervention from Luis Suarez spoiled Sunderland's Saturday and made sure the Reds didn't leave the Stadium of Light empty handed. With the Uruguayan sitting this one out, Rodgers is set to hand 18 year old striker Samed Yesil his first team debut. The former Bayer Leverkusen striker has been dubbed "the new Drogba" and the Reds will be hoping that he can live up to that billing as they look to sneak out of the Stade de Suisse with more than they came in with. Did I just imply that Scousers are going to Switzerland to steal? Hardly.
I'm loathe to say that we should be able to walk in and just take the points since that's no longer the case. Resting first team players and giving the kids a crack at spotlight when faced with what's considered an inferior side in a competition that isn't quite as important as the league makes sense to me; but, even if we had a team stocked with the go-to-guys, nothing is a sure thing. The time for underestimating the opposition has come and gone. Getting out with more than we came in with will be more of a pleasant surprise than a dead to rights certainty.
-steven.
Give us a Like on Facebook and a follow on Twitter. If you're into the tunes, check out our collaborative playlist on Spotify.