Anfield Soul (Keeping the Faith): Wigan Preview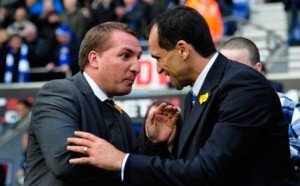 After a brief International Break that saw Steven Gerrard earn his 100th England cap, we're right back into the thick of things with Wigan Athletic knocking banging on our door. The Latics sit only one point behind us in the league standings and after the draw with Chelsea at Stamford Bridge last weekend, Liverpool won't be keen to share the spoils this time around; if we're going to fight our way out of the wrong side of the table, each and every point counts. Reds boss Brendan Rodgers will once again try to get his side back on track, and this time, it will hopefully be at the expense of the man that was favored to be sitting in his seat.
It doesn't seem like that long ago when Fenway Sports Group met with Roberto Martinez in Miami as the search for Kenny Dalglish's successor began to heat up. Though the Spaniard would repay the faith of Wigan chairman Dave Whelan and stay at the DW Stadium to "build a legacy", it seemed an almost certainty that he'd be playing his brand of attacking football at Anfield in the very near future. I'm not quite sure if avoiding relegation season over season qualifies as a legacy, but with the Reds embroiled in one of those mystical 5 year plans, the Latics aren't just avoiding the drop — they're nipping at our heels.
It's safe to say that both sides are in transition, but as Liverpool stumble at each and every block, Martinez has built a squad on a paper thin budget that is continually punching above their weight. Republic of Ireland midfielder James McCarthy, who recently turned 22, has turned heads this season with composed displays in the center of the park that beguiles his short years in the top flight. It wasn't that long ago that Rafa Benitez was interested in signing him and the rest of the world is now beginning to see why. Argentinean striker Franco di Santo has 3 goals this season and earned a call up for his country's scoreless draw with Saudi Arabia midweek. Although di Santo may not always be a sure bet to put the ball in the net, Liverpool, for the time being anyways, know where their goals are coming from.
Luis Suarez has put millions of minds at ease with a few simple words: I'm happy here. Reports were circulating that mega-bucks Manchester City were sniffing around the striker, but both the club and the man himself have moved swiftly to squash the rumors. Suarez recently picked up his second consecutive Standard Chartered Player of the Month award after a virtuoso display in the Merseyside derby proved just how vital he remains to the club; performances aside, at the moment he's the clubs only senior striker so he's more important than ever. As of writing, our favorite villain is joint top scorer in the Premier League and if we're going to beat the Latics tomorrow, it's a pretty safe to have a punt on him getting on the score sheet.
If you couple the Suarez news with the news that Lucas should be back in a few weeks time, we've got some sunshine on the horizon. Considering the size of our squad, the Reds have been hard hit by injuries in recent weeks, but both Pepe Reina and Jonjo Shelvey will be back in contention by the weekend. Backup 'keeper Brad Jones has been immense as a stand-in for the injured Reina, though we've continually missed the kind of quick, accurate distribution the Spaniard provides. Rodgers likes to have his sides build from the back and a goalkeeper with a keen eye for a pass can be vital to that. Reina has been out for quite some time now and though he's expected to slot right back in to the side, he's going to have be on his game if he wants to retain his starting place and avoid a repeat of Wigan's last visit to Anfield.
A 2-1 reversal at the hands of the Latics sent another nail deep into the coffin of Dalglish's short second reign and while Rodgers appears to have the backing of the owners, results need to improve drastically if the Reds wants to find themselves on the right half of the table come Christmas time. This is a building process and though Rome wasn't built in a day, they did put a wall up now and again. We'll call three points tomorrow progress and a job well done. It might not be the kind of long term progress we're all so eager to see, but in the short term it'll keep a few of us from drinking ourselves to sleep on Saturday night.
-steven.
We're on Twitter and the Facebook. Find us and let's get social on the social media.