Defensive Duo Set to Leave Liverpool?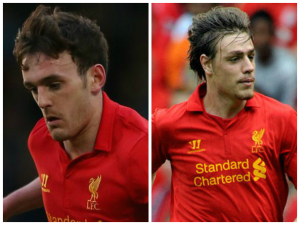 As the transfer window starts to wind down, Liverpool look set for more departures with the futures of both Jack Robinson and Sebastian Coates in question — but one looks set to leave on loan yet again while the other may not be coming back.
According to reports, Robinson is a target for former Liverpool legend Sami Hyypiä and his Brighton & Hove Albion side. The big Finn, who took over at the Seagulls following a spell at German side Bayer Leverkusen, is supposedly keen to bolster his defensive ranks ahead of a gruelling Championship campaign and he could return to his old club for some help with the highly rated Robinson on his wishlist.
With the on again, off again transfer of Sevilla fullback Alberto Moreno and the return to fitness of Jose Enrique making it look like chances will once again be limited for the youngster should he stay at Anfield for the year. After a successful loan spell at Blackpool, his prospects of battling for a first team berth looked a little more likely, but Reds boss Brendan Rodgers may think he could do with one more season out of the nest before he let's the little bird spread his wings in the big time. The same, it's starting to look, can't be said about Sebastian Coates.
The Uruguayan, who made his countries World Cup squad after recovering from a serious injury last year, looks set to leave Liverpool permanently with rumours circulating that he's been offered to Serie A side Sampdoria. Things were starting to look up for the South America with news that Kolo Toure is bound for Turkish side Trabzonspor and that Daniel Agger looks increasingly likely to leave Merseyside in the coming weeks, but with Rodgers confirming that they've recieved no offers as of yet for the Dane's services, he could be the fourth center-half to round out the Reds squad for the season while Coates looks the more likely to be on the outs.