If there is one player who was out to make an impression during the North American tour, it was Jonjo Shelvey. The 20-year-old midfielder was by far the most consistent throughout all 3 matches against Toronto, Roma, and Spurs. Whether playing as a central midfielder or in a more forward role, Shelvey's passes and shots were exactly what you want to see out of a player during pre-season. Many are upset by the news of Aquilani's imminent departure, but the Aquaman did not come close to matching Jonjo's quality. It it time for this young player to get a real crack at the first team.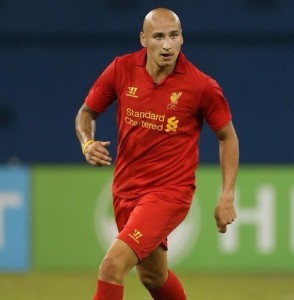 Shelvey spent most of his teenage years at Charlton Athletic. His emerging talent was spotted by Liverpool and he made the switch to LFC in 2010. He was loaned to Championship side Blackpool to gain more experience that season, but was recalled at the end of November due to injuries to Steven Gerrard and Lucas Leiva. During his short spell at Blackpool, however, Shelvey revealed what a talented player he truly is.
In just 10 matches, Jonjo managed to find the back of the net 6 times as well as providing 3 assists. Out of 848 minutes played, that is an impressive 141 minutes per goal. The best Steven Gerrard has been able to pull off in a season is 164 minutes per goal. Granted, that was a full season for Gerrard and we're only looking at 10 matches for Jonjo in the Championship, but it gives a bit of context.
Unfortunately, Shelvey's recall was disappointing. He was only able to register 728 minutes of playing time for the first team. In retrospect, it seems a waste to have brought him back and then not played him much. He only made 8 starts and was used as a late sub the other times. Though he only scored one goal for Liverpool's first team during the remainder of the season, he did manage to put 40% of his shots on target.
Here are a few other stats of note. I've compared him to Gylfi Sigurdsson because I see them same type of player.

There are certainly parts of his game that Shelvey needs to work on such as tackling and ground 50-50 challenges, but the numbers say that there is a decent midfielder in there somewhere. The youngster provides a fluid style of play that should fit in with Rodgers' program nicely and can also be dangerous in dead-ball situations. He has also been hailed by Joe Cole as future captain material for his leadership qualities. If it is part of the new Liverpool model to develop young talent instead of overpaying on transfer fees and wages, then perhaps it is time for Shelvey to get a real shot at being in the starting XI.
-CSD